BIO

Taking their name from the word "amorphous" meaning 'no determinate form or shape', Finland's most creative and acclaimed metal band have certainly lived up to their name along the course of their ten year history. With a vast set of musical influences amongst their membership, Amorphis have taken large strides with each consecutive album and have reached their most ambitious plateau yet. Boasting a sound more aligned with '70s progressive rock bands than modern day metal acts, Amorphis aren't afraid to let go of their past and fly into uncharted territories inspired by their Finnish heritage. The band have always stood against the trends of the day and forged their own unique style amongst hordes of sound-alikes and pretenders Formed around the duo of lead guitarist Esa Holopainen and drummer Jan Rechberger, the two quickly picked up vocalist/guitarist Tomi Koivusaari. Bassist Olli-Pekka Laine joined shortly after, and Amorphis recorded their one and only demo, Disment of Soul, in mid-91. On the strength of this demo, Amorphis secured a multi-album deal with Relapse Records and immediately recorded six songs, two of which were released as a limited edition 7" EP.

Amorphis capitalized on their solid underground following built on the strength of their demo and the 7" - by recording their debut full-length The Karelian Isthmus. Named after an historic Finnish battlefield, The Karelian Isthmus blasted forth with majestically moving atmospheric death metal featuring jagged doom riffs, vocal cries of misery and ethereal synthetizers to complement their new adventurous sound. Before work began on their next album, Relapse Records released the entire early demo recording session as 1993's Privilege of Evil.

In 1994, Amorphis ventured even further into their keyboard-oriented progressive death metal sound and celebrated their rich Finnish history within the music. The band once again recorded in Sunlight Studios and emerged with one of 1994's finest masterpieces of metal, the critically-acclaimed Tales From The Thousand Lakes. Incorporating lyrics from the finnish national poem book, The Kalevala, Amorphis fused elements of traditional heavy metal, doom, death metal and '70s progressive rock to craft an album that stunned not only the band's own followers, but the entire metal underground. Amorphis toured the European continent several times and, in late '94, visited american shores for the first time. Due to the keyboardist's inability to meet tour commitments, new keyboardist (and now an integral member) Kim Rantala was brought in to solidify the line-up. 1995 brought yet another chapter in Amorphis history with the Black Winter Day EP featuring the title track and three unreleased tracks from the Tales... sessions. The EP held hungry fans over temporarily while the band took a very short rest before writing and recording their third full-length epic...

Where their prior work astounded, this time Amorphis transcended all expectations with Elegy, an eleven-song journey into lush keyboard atmospheres, psychedelic guitar tones and an array of vocal deliveries, summoned by both Tomi and the now-permanent "clean" vocalist Pasi Koskinen. Elegy also features the rock-solid work of new drummer Pekka Kasari, who filled out the six-piece Amorphis line-up. Elegy featured lyrical inspirations from another legendary piece of Finnish literature, The Kanteletar, a book comprised of nearly 700 poems and ballads based on old Finnish traditions. The poems have been passed on by word of mouth from generation to generation, with some of the poems being literally thousands of years old. The Kanteletar is based on everyday life, including the Finnish people's philosophical and religious beliefs, and Amorphis created a spellbinding work of progressive rock/metal anthems based on the book's legend and lore. With vivid cover artwork incorporating ancient Finnish symbols, Elegy traversed many musical paths and conjures a variety of moods, from the upflitting ode of My Kantele to the crushingly dismal sentiment of Better Unborn.

1997 brings forth My Kantele, a mini-extension of the monumental Elegy, featuring the acoustic reprise of My Kantele, as well as the all-new two pare epic The Brother-Slayer. The awe-inspiring lead guitar-keyboard interplay of Esa and Kim mines the progressive and melodic veins brought to light within Elegy. Amazing interpretations of Kingston Wall's And I Hear You Call and Levitation by space rock mavens Hawkwind complete My Kantele, and thus turn another page in the ongoing saga of Amorphis...

The rest of 1997 was spent on touring, mainly in Finland and in Germany, but then all of a sudden it became very quiet around Amorphis for almost a year. The band felt burn out feelings from endless touring & decided to keep creative break and see what new would come out.

In the latter part of 1998, the group announced that they would go into the studio to record a new album, this time with a new producer, Simon Effemy. The keyboard player was new too, when Kim Rantal chose to leave Amorphis in 1998. The new keyboard player was named Santeri Kallio and he had recently played with the Finnish metal group Kyyria. The new master piece "Tuonela", which means Hades- the realm of the dead, was released in the whole world 30/3-99. The album is a very successful hybrid between "Elegy" and a more melodicly concentrated rock'n'roll ."Tuonela" is hardly as heavy and brutal as the previous record, which may be due to Pasi Koskinen's melodic voice. But the melodies and the refinements are definitely still there.








discography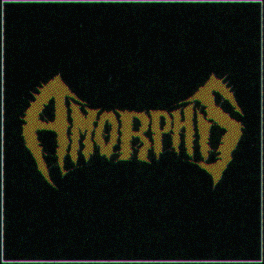 AMORPHIS - AMORPHIS

Format: 7" Vinyl (Very Rare)

Recorded: 1991

Tracklist:

Vulgar Necrolatry
Misery Path


AMORPHIS - PRIVILEGE OF EVIL

Formats: CD, CS

Recorded: 1991

Tracklist:

Pilgrimage From Darkness
Black Embrace
Privilege of Evil
Misery Path
Vulgar Necrolatry
Excursing From Existence
Originally recorded as their side of an aborted split LP with labelmates INCANTATION, these six tracks are delivered in a much more brutal death metal style than the material on their successive releases. Raw and sounding very much in the underground death metal tradition, Privilege of Evil gives the band's fans a taste of the early spirit of AMORPHIS.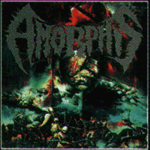 AMORPHIS - THE KARELIAN ISTHMUS

Formats: CD, CS, LP

Recorded: 1992

Tracklist:

Karelia
The Gathering (lyrics)
Grails Mysteries (lyrics)
Warriors Trail (lyrics)
Black Embrace (lyrics)
Exile Of The Sons Of Uisliu (lyrics)
The Lost Name Of God (lyrics)
The Pilgrimage (lyrics)
Misery Path (lyrics)
The Sign From The North Side (lyrics)
Vulgar Necrolatry (lyrics)
Finland's AMORPHIS emerged from Scandinavia's reknown death metal scene as contenders for world domination. The Karelian Isthmus, their debut full length, is a crushing crusade of majestic, atmospheric death/doom metal. Top notch Sunlight production and Miran Kim's fantastic cover artwork dramatically rounds out the medieval theme of the record. Extra track (Vulgar Necrolatry) was added to pay homage to, and lay to rest, their past association with guitarist Tomi Koivusaari's previous outfit, ABHORRENCE. The other ten compositions introduced AMORPHIS as a band capable of incredible depth, stunningly heavy guitar tones and lyrical themes firmly rooted in Scandinavian folklore.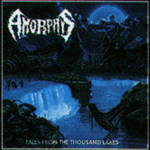 AMORPHIS - TALES FROM THE THOUSAND LAKES

Formats: CD, CS, LP

Recorded: 1993

Tracklist:

Thousand Lakes
Into Hiding (lyrics)
The Castaway (lyrics)
First Doom
Black Winter Day
Drowned Maid
In The Beginning
Forgotten Sunrise
To Fathers Cabin
Magic And Mayhem

Building on the strengths exemplified by their The Karelian Isthmus debut, Tales From the Thousand Lakes perfectly combines elements of heavy metal, doom, death metal and '70s progressive rock into a talented and extremely tasteful historical tribute based on Finland's national pole book The Kalevala. Rock solid and musically mature, Tales... introduces a greater use of texturing within AMORPHIS' compositions, featuring melodic vocals paired with Tomi's deathly reverberations and a heavier use of keyboards throughout the 10 tracks within.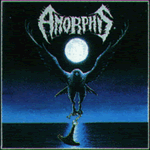 AMORPHIS - BLACK WINTER DAY

Format: CD

Recorded: 1994

Tracklist:

Black Winter Day
Folk of the North
Moon and Sun
Moon and Son part 2
This CD Ep serves as an extension of 1994's monumental Tales From the Thousand Lakes opus. Featuring the title track (taken from Tales...), and three previously unreleased compositions from the Tales From the Thousand Lakes sessions, this Ep closes the Kalevala and ends this chapter of AMORPHIS' ongoing progression, being the last release to feature original drummer Jan Rechberger and keyboardist Kasper Martenson. Black Winter Day is enhanced with brilliant artwork by underground cult artist Wes Benscoter.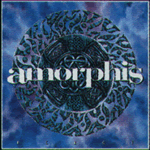 AMORPHIS - ELEGY

Formats: CD, CS, Limited Edition LP

Recorded: 1995

Tracklist:

Better Unborn (lyrics)
Against Widows (lyrics)
The Orphan (lyrics)
On Rich And Poor (lyrics)
My Kantele (lyrics)
Cares (lyrics)
Song Of The Troubled One (lyrics)
Weeper On The Shore (lyrics)
Elegy (lyrics)
Relief
My Kantele (acoustic reprise)
Amorphis have truly transcended all expectations with Elegy, an eleven-song journey into lush keyboard atmospheres, psychedelic guitar tones and an array of vocal deliveries, summoned by both Tomi Koivusaari and new permanent "clean" vocalist Pasi Koskinen. Elegy also features the work of new drummer Pekka Kasari and keyboardist Kim Rantala, filling out the six-piece 1996 AMORPHIS line-up. Featuring lyrical inspirations from another legendary piece of Finnish literature, The Kanteletar, the book is comprised of nearly 700 poems and ballads, based on old Finnish traditions. The band's move towards more progressive musical expressions is evident throughout Elegy, treading an open path for future explorations and insuring the band's longevity as an innovator in the worldwide metal movement.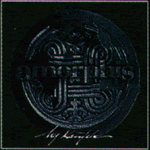 AMORPHIS - MY KANTELE

Format: CD

Recorded: 1996

Tracklist:

My Kantele (acoustic from Elegy album)
Brother's Slayer
Lost Son (Brother's Slayer part 2)
Levitation (Hawkwind cover)
And I Hear You Call (Kingston Wall cover)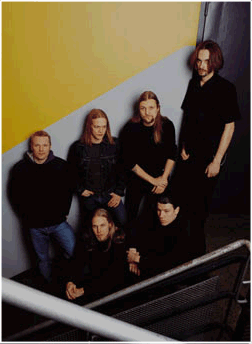 Amorphis is:

Pasi Koskinen Vocals

Esa Holopainen Guitar
Tomi Koivusaari Guitar
Niclas Etelavuori Bass
Santeri Kallio Synthesizers
Pekka Kasari Drums




Past members:

Olli-Pekka Laine (bass)
Jan Rechberger (drums)
Kasper Martenson (Keyboards)
Kim Rantala (Keyboards


Name: Esa Holopainen
Instrument: lead guitar

1.Musical influences? Black Sabbath
2.Favourite Amorphis show? Cologne - live music hall (this venue kicks some major ass)
3.Favourite Amorphis trip? US-tour 2000
4.CD in your player at the moment? Juno Reactor - Shango
5.Best movie ever? Tuntematon Sotilas or T2
6.Favourite aftershow drink? Water
7.Your personal demands in the raider? No nuts, No red meat
8.Worst band ever? Brainstorm from Latvia
9.Best band ever? Pink Floyd
10.Favourite studio coincidence? -
11.Favourite song from Am Universum? Shatters Within/Alone
12.Favourite song from Tuonela? Summers End
13.Favourite song from Tales from the thousand lakes? Intro
14.Best show (in the audience)? Pink Floyd - In Lahti Finland 1987
15.Worst show (in the audience)? Grave Digger - Wacken Festiva16.Funniest show (in the audience)? Grave Digger - Wacken Festival 1998 l 1998
17.Favourite club? Tavastia - Helsinki
18.Worst TV-serie? Bill Cosby Show
19.Do you do sports? Thai-Boxing & Bowling
20.What do you eat? Chicken
21.Best beer? Lapin Kulta
22.Favourite musician? Ozzy Osbourne
23.Favourite homepage? amorphis.net
24.The main reason why did you started making music? I liked Heavy Metal & wanted to play as loud as Manowar
25.The main reason why you keep on making music? I realised that I could come up with better songs than the ones on first album + free drinks!
26.Good parts in touring? Visiting countries & places you normally don't go, meeting people, enjoying free drinks with bandmates
27.Bad things in touring? Hangovers because of free drinks, waiting for show
28.Are you afraid of flying? No, because of free drinks I kinda enjoy flying
29.Are you afraid of dying? Yes because I'm not sure about free drinks after that...


Name: Pasi Koskinen
Instrument: Vocals

1.Musical influences? Everything but reggae
2.Favourite Amorphis show? Dynamo-97
3.Favourite Amorphis trip? US tour-2000
4.CD in your player at the moment? A.S.Laveys Satan takes a holiday
5.Best movie ever? Tuntematon sotilas
6.Favourite aftershow drink? Beeeeeeeeeeeer
7.Your personal demands in the raider? My demands are illegal in most of the countries
8.Worst band ever? Odin
9.Best band ever? Black Sabbath
10.Favourite studio coincidence? -
11.Favourite song from Am Universum? Drifting Memories
12.Favourite song from Tuonela? The Way
13.Favourite song from Tales from the thousand lakes? Drowned Maid
14.Best show (in the audience)? Montreal 2000 (He was really out there.)
15.Worst show (in the audience)? Lyon 97 (He was really out there.)
16.Funniest show (in the audience)? Somewhere in holland96-97.There where a "witch" on stage etc.
17.Favourite club? House of Blues Chicago
18.Worst TV-serie? Right wing or something,its about white house and it sucks.
19.Do you do sports? No
20.What do you eat? Everything
21.Best beer? Olvin tumma laageri
22.Favourite musician? Me
23.Favourite homepage? C.O.S
24.The main reason why did you started making music? Natural born musician
25.The main reason why you keep on making music? Same as above
26.Good parts in touring? Endless list
27.Bad things in touring? Hangovers
28.Are you afraid of flying? Nope
29.Are you afraid of dying? I cant wait

Gear list



Name: Tomi Koivusaari
Instrument: Guitar

1.Musical influences? Everything I hear
2.Favourite Amorphis show? Propably some summer festival gig
3.Favourite Amorphis trip? ..whole trip..
4.CD in your player at the moment? Spiha:Tooth Helmet
5.Best movie ever? ...Breaking the waves, at the moment
6.Favourite aftershow drink? Lapin
7.Your personal demands in the raider? kaffe ja ranskan pulla
8.Worst band ever? Thor
9.Best band ever? Pink Floyd
10.Favourite studio coincidence?
11.Favourite song from Am Universum? ...Drifting Memories...
12.Favourite song from Tuonela? Tuonela
13.Favourite song from Tales from the thousand lakes? To Father's Cabin
14.Best show (in the audience)? Manowar
15.Worst show (in the audience)? Manowar
16.Funniest show (in the audience)? Manowar
17.Favourite club?Tavastia
18.Worst TV-serie? Beverly kills
19.Do you do sports? football,squash,swimming..
20.What do you eat? everything that moves
21.Best beer? Lapin
22.Favourite musician?
23.Favourite homepage? xxx
24.The main reason why did you started making music? I heard "I wanna be somebody" from WASP
25.The main reason why you keep on making music? music is a drug and Im hooked
26.Good parts in touring? shows and aftershows
27.Bad things in touring? waiting
28.Are you afraid of flying? sometimes when having 1 month hangover from tour..
29.Are you afraid of dying?no


Name: Pekka Kasari
Instrument: Drums

1.Musical influences? Everything
2.Favourite Amorphis show? Istanbul -98
3.Favourite Amorphis trip? Japan -96
4.CD in your player at the moment? Spiritual Beggars: Ad Astra
5.Best movie ever? Katsastus
6.Favourite aftershow drink? Beer
7.Your personal demands in the raider? Beer
8.Worst band ever? Boy bands
9.Best band ever? Police
10.Favourite studio coincidence?
11.Favourite song from Am Universum? Alone
12.Favourite song from Tuonela? Tuonela
13.Favourite song from Tales from the thousand lakes? Into Hiding
14.Best show (in the audience)? Metallica -86
15.Worst show (in the audience)? KISS -98
16.Funniest show (in the audience)? SOD -99
17.Favourite club? Tavastia Helsinki
18.Worst TV-serie? Bold and beautiful
19.Do you do sports? Fishing, hunting, ice hockey
20.What do you eat? Everything
21.Best beer? Karjala
22.Favourite musician? Roope Latvala, (Waltari, Sinergy), best guitar player I know.
23.Favourite homepage? Huns yellow pages
24.The main reason why did you started making music? It was natural thing to express myself.
25.The main reason why you keep on making music? Being in a great band
26.Good parts in touring? Partys, I can meet lot of new persons
27.Bad things in touring? Traveling, traveling, waiting, waiting
28.Are you afraid of flying? There is alcohol
29.Are you afraid of dying? No