News
IRON MAIDEN NEWS
November 29, 2001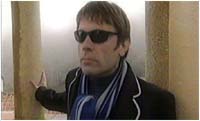 Iron Maiden's album The Number of the Beast is featuring as part of the Internationally acclaimed Classic Albums TV Series and is being broadcast on New Years Day in the UK.


Among the people interviewed on the show include the original band members including Clive Burr, Manager Rod Smallwood, Long time producer Martin Birch and journalists from both sides of the Atlantic as well as some surprise artists!

It is probably one of the most in depth documentaries that has ever been made about the band and their history.

The program will be aired in the UK on Channel 5 on January 1st 2002 at 11.30pm and will be broadcast in other countries around the same time so check your local paper for details.

However if you can't wait that long you will be able to buy the DVD which is being released by Eagle Rock on Monday December 3rd in Europe and December 4th in North America.

Along with the show the DVD features 25 minutes of extra footage which won't appear in the TV Broadcast and also includes an EXCLUSIVE preview of "Hallowed Be The Name" taken from the forthcoming Rock in Rio DVD due out next year.

The BONUS "Hallowed Be Thy Name" track also has the 5.1 Dolby Digital Surround Sound (although not as a separate option) for those who have it and want to feel like they are there in the front row.

The Classic Albums series has run for a couple of years now and has covered a variety of artists from Fleetwood Mac (Rumours), Meat Loaf (Bat Out Of Hell), Judas Priest (British Steel) and recently Metallica (Black).

For those of you who haven't seen the Classic Albums series it is an hour long documentary discussing everything from the concept, the recording and the creation of music and the impact it had on the music world at the time.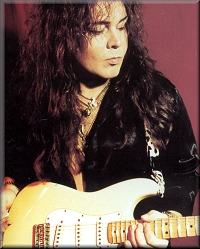 YNGWIE MALMSTEEN


November 27, 2001
Revised Release Date for Concerto Suite Live
Pony Canyon announces that the enhanced CD/DVD release of Yngwie's June 17, 2001, performance of Concerto Suite with the New Japan Philharmonic will be January 9,

SINERGY

November 19th, 2001 NEW SITE!
This site will premiere it's new design on December 1st! You can expect to see the new album cover, hear samples of 5 new songs, read new band facts, see new promo photos and interact on our new messageboard!

Lyrics for "Suicide By My Side" will be added on January 14th when the album releases in europe.


October 11th, 2001 NEW DRUMMER CONFIRMED!!!
The newest addition to the Sinergy clan is Swedish drummer Mats Karlsson. Mats is what we'd call "fresh blood" (not having played in any serious bands prior to Sinergy). He was a student at Musicians Institute (or "M.I.") in L.A. for 9 months and has studied at various other schools of music. He will be relocating to Helsinki to join the band on upcoming tours and albums. We'll have more info. on him when the site debuts its new design on december 1st. Included in the new design will be 5 mp3 samples of songs from the upcoming album "Suicide By My Side". Stay tuned...

Sinergy wishes to thank the many drummers who offered their talents to the band. Good luck to all of you







The original members of TWISTED SISTER
Dee, Jay Jay, Eddie, Mark, & A.J. have rejoined forces for
NEW YORK STEEL - A Hard Rock Benefit Show for the families of NYC Police and Firemen at the Hammerstein Ballroom on November 28th. Also hitting the stage to help raise money will be SEBASTIAN BACH, the former lead singer of Skid Row, KISS's legendary lead guitarist ACE FREHLEY, ANTHRAX, and OVERKILL.

The evening will be hosted by Met's superstar MIKE PIAZZA
along with the host of Friday & Saturday Rocks,
EDDIE TRUNK from 102.7 WNEW.

Tickets go on sale this Saturday, October 20th at Noon.
Just click on the link below to purchase your tickets to catch the reunion of Twisted Sister while helping out NYC's finest and bravest.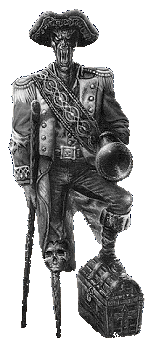 RUNNING WILD
ANNOUNCES NEW ALBUM

November 28, 2001


The recordings on the new album are finished and the album will be released at the end of January or February 2002.

This is the complete track-list from The Brotherhood:

01. Welcome to Hell
02. Soulstripper
03. The Brotherhood
04. Powerride
05. Siberian Winter
06. Detonator
07. Pirate Song
08. U-Nation
09. Dr. Horror
10. The Ghost
11. Crossfire *
12. Faceless *

* appears only on the limited edition

29th November 2001


Judas Priest are very pleased to announce Saxon will be appearing at the Brixton Academy with them on 19th December, 2001 as their special guests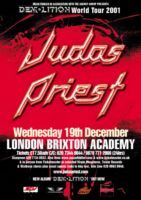 Legendary metal giants JUDAS PRIEST released their new studio album Demolition in the summer this year on SPV Records and commenced their 'Demolition World Tour'.

As a result of massive ticket demand for the bands sell out show back in June at the London Astoria JUDAS PRIEST will be returning to the capital following shows in Europe, South American, Mexico, Scandinavia, Australia and Japan to play a special Christmas show at BRIXTON ACADEMY on Wednesday, December 19th.

Tickets for the Brixton gig, promoted by Mean Fiddler, are now available priced at 17.50 from the Academy box office on 0870 771 2000 and all usual agents including Stargreen and Way Ahead. Credit card bookings can also be made online at www.ticketmaster.co.uk or www.ticketweb.com.