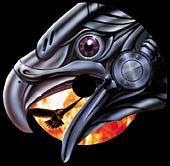 SIMONA :tell me about the shaped CD- why release it now???
RALF :Because the German Handball team Frisch Auf Gppingen uses "Under- your spell" as their intro to come into the hall....so we thought- to do something special for their fanclub..........
SIMONA: this song- horrorscope what is that LIKE??

RALF Horroscoop....... well, it's a long time ago but as far as I remember .. :-)) it's a very groovy and melodic song which would also perfectly fit into a Sinner album..........but we did it and- it sounds very good !

SIMONA :when was that song recorded
RALF: It was for the "Jaws of death" session........ 1999

SIMONA :why did that not make it on that record
RALF: well, you know how it is.. you always compose more songs than you will- use for a record...so sometimes good songs will not be- chosen for the final ones on the record ... Even nowfor "Black Sun" we have 14 fantastic songs.... but we only will take 10 or 11 it's a shame sometimes but that's the way it is..

SIMONA:is breaker a cover on the accept song?
RALF: yes

SIMONA: why did you not also enclose "iron fist..."- after
- all that was a bonus track if i remember correctly
RALF :"iron fist ..."is on so many issues ... you can't- really say.. it is a bonus track........but it's the same incident.....like I said before... too many songs.....


..
SIMONA : so- I have to ask you this- how is the work on the "black sun" going
RALF : We are still in the preproduction phase but we are almost finished. we haveto record 2 more songs tomorrow and on saturday then we will head into the studio on Dec.14th and we will mix it in January...Texas/El Paso

SIMONA: what will "Black sun" be like?
RALF : It will be a must for every PF Fan !! It's variety ... is very wide again... from Bay Area to melodic metal.... but it's always 100% PF

SIMONA cool!!but isn't that a very short time to make an- album?
RALF:yes but we are used to it !! We always recorded in 3 weeks.... sometimes it's hard .. but in the end you don't fall into the trap to do the parts.... too often..like for instance the guitars or some lead stuff.. For me as a vocalist it's hard as well but when the voice is in a good shape... after singing for 3 days in a row.. it's cool !! :-)))
SIMONA: so we are looking forward to an album that will- be as good as nuclear fire or better????
RALF:Yeah thanx.... we are looking forward as well........but I think the fans will decide if it's- better... it's their job..... :-))
Anyway...we love it !

SIMONA :so...a final word for the fans.......
RALF:Ok, thanx for your patience and for your faith.....and sorry if we didn't come to your country whereever you are..we will work on a wider tour the next
time.........