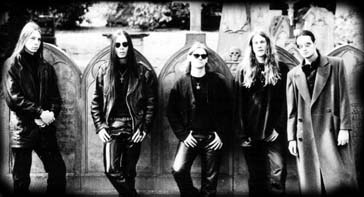 The Band was founded in september '95, after Matthias (drums) and Sathonys (guitars) put adverts in various music magazines to find suitable musicians to join them. Shortly after, they got hold of Marko (bass) and Vlad (vocals and keyboards). Two months later, a second guitarrist (Hyperion) was added to this line-up, and in this constellation, the band recorded its first demo CARPE NOCTEM in april '96, which received great reviews in german major press like Rock Hard or Metal Hammer, but also in the worldwide underground. Even with this first appearance, Century Media were impressed by the talent of Agathodaimon and had an eye on the following activities of the band.

Many gigs with bands such as Desaster, Impending Doom, Ancient Ceremony and others took place, and even a little tour as support for Ablaze My Sorrow and Beseech was absolved, and after Century Media were aware of their livequalities, Agathodaimon was offered financial help to record their second demo, which the band at this moment couldn't afford to record. This second demo was called NEAR DARK and was recorded in march '97. Again, Century Media were impressed, but as the negotiations took a long time, the band offered this demo for sale, making it one of the most successful demos ever, selling more than 2500 copies so far. Meanwhile, other labels showed their interest due to enthusiastic reviews, and so the band also considered the offers of companies such as Listenable, Head Not Found, Last Episode, Merciless and others, but in the end, they decided to sign to Nuclear Blast as they simply made the best offer, concerning promotion, support and marketing.

Shortly before the recordings of their debut album BLACKEN THE ANGEL, bad luck stroke upon Agathodaimon, as Vlad, who was visiting his native country Romania, wasn't allowed to return to Germany by the authorities. Several tries failed, but the immigration board denied all requests, as he left Romania during Ceaucescu's reign and meanwhile it's a safe country, so there would be no need to enter germany again. Well, there were some problems beside this which makes his return quite hard, but these we'd like not to discuss in public. Just be aware that we tried many things to get him back, but everything failed, so we had to finish BLACKEN THE ANGEL in the last second with the help of a few guest musicians. Akaias took the part of the vocals, who's mainly involved in his band ASARU; and on keys, Vampallens (Marcel) of Nocte Obducta was so kind to grant his talents to the band. Vlad only could participate with an ambient song called 'Contemplation Song', which he sent by air mail on DAT...



After the release, the band played on various festivals and had tours with bands such as Benediction, Dismember, Hypocrisy, Children Of Bodom, Raise Hell... and could be seen on many gigs as headliner or support to bands like Dimmu Borgir or Lacrimosa.

Finally, we also finished the work on our second album

HIGHER ART OF REBELLION

which was recorded in Romania this time, at Magic Sound Studio in Bukarest
















The new album by AGATHODAIMON has just proven that black metal is back with a vengeance...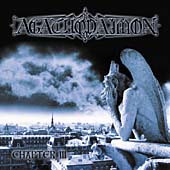 After a headline tour around Europe and diverse festival gigs such as Wacken, Wave Gothik Treffen, Windo Rock etc the band recorded their forthcoming album. After a costly pre-production the complete album was recorded in the Kohlekeller studio with Kristian Kohlmannslehner and mixed in Commusication studio with Gerhard Magin (Crematory, Theatre of Tragedy etc.) where the bands debut originated. Without a doubt the sound is the best production from Agathodaimon to date with the last cuts being made by Magic Masters who have already worked with bands like Black Sabbath and Deep purple. The band was also capable of improving the song writing as well and this is confirmed in successful compositions on CHAPTER III. Starting with the opener An Angels Funeral which begins with a dissection-like resemblance merged with gripping riffs and a furious guitar solo, the varied, keyboard influenced Spiritsoldier, the traditional Agathodaimon-sounding Paradise Beyond laid with acoustic guitars and clean vocals, the melodic The Ending of our Yesterday, the groovy Past Shadows to the wreaking Departure, the small intermezzo Yesterdays Reprise and the atmospheric half ballad Sacred Divinity where Agathodaimons experimental character leans towards the Marillion sound. The albums conclusion is found in Burden Of Time; a further masterwork on an album which doesnt let any weaknesses show and whose artwork was once again contributed to by the renowned Gerald Axelrod. A completely successful product, which will surprise true black metal fans, as well as those who see black metal in general as unstructured noise. Chapter III clearly portrays the peak in the career of Agathodaimon to date and will further secure their position at the top of the German scene as well as strengthening their reputation abroad.