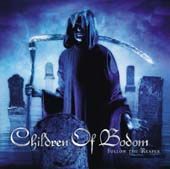 Finlands finest melodic death metal band are back with their third chapter of torrid tales from the merky depths of the murderous Lake Bodom.
Follow The Reaper is the follow up to last years highly successful albums, Hatebreeder and the limited edition live set, Tokyo Warhearts. Their latest CD- single Hate Me ! sold platinum in Finland , and all their previous singles have reached gold also.
Hatebreeder not only set standarts for others in their genre to try and match, but the live album indicated just how far Children of Bodom had come in such a short time, proving that they have become a tight unit and a killer live act. They have already toured Europe four times and in spring next year you have the opportunity to have a look at them on the co-headlining tour with Primal Fear.
In between these releases, guitarist/vocalist Alexi Laiho found time to write songs and play on the Sinergy album To Hell And Back, while keyboardist Janne Wirman recorded an extraordinairy solo project Unknown Soldier, under the guise of Warmen, proving that Children Of Bodom are no one man show, with every member contributing to their unique sound.
Follow The Reaper also marks a radical change in recording surroundings. The band decided to venture into unknown territory and this time to record outside of Finland and chose Swedens legendary Abyss Studios , with the famed producer Peter Tgtgren ( Hypocrisy/Pain).
Follow The Reaper is a glorious mixture of their debut albums heavy riffing raw sound, combined with Hatebreeders monsterous technical metal acrobatics.
The most noticable thing is how much the band have improved not only as a unit, but also bringing the personal levels of musicianship to a new high.
The nine new songs on offer represent Children Of Bodom at their finest. Every song is a killer, there are no fillers, combining riffy and brutal, yet ,melodic songs, with an addictive hook, guaranteed to make you want to hear it over and over again.
The most noticable change is that of the vocals of Alexi Laiho, his raw and brutal style remain intact, but this time even he manages a hint of melody, to propell that distinctive Bodom sound to new heights.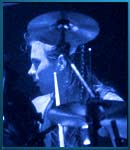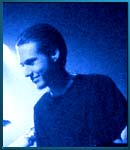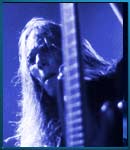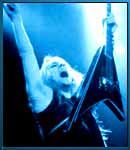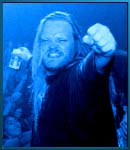 Alexi "WildChild" Laiho
1.How long have you played?
Ten years
2.Bands you like?
WASP, Ozzy Osborne, Stone

3.Favourite musicians?
Randy Rhodes, Zakk Wylde, Jake E Lee, Paul Gilbert

4.Your top 5 albums?
Stone:No anesthesia
Ozzy Osborne: No rest for the wicked
Stratovarius:Visions
Dark throne:Blaze in the northern skies
WASP:Wasp

5.Favourite Bodom song?
Every time I die

Henkka T Blacksmith
1.How long have you played?
Six years.
2.Bands you like?
Slayer, Kreator, Cathedral

3.Favourite musicians?
Flea

4.Your top 5 albums?
Slayer: Seasons in the abyss
MrBungle: Disco volante
Sepultura: Arise
InFlames: Colony
Cathedral: Ethereal mirror


5.Favourite Bodom song?
Children of decadence

Janne Warman
1.How long have you played?
Keyboards 4years, piano before.
2.Bands you like?
Stratovarius, Symphony X, Arch Enemy, Sinergy

3.Favourite musicians?
Jens Johansson, Sami "Ritari" Virtanen

4.Your top 5 albums?
Stratovarius: Visions
Ozzy Osborne: No more tears
Jens Johansson: Fission
Sinergy: To Hell and Back
o(+>: The Gold expirience

5.Favourite Bodom song?
Silent Night, ...


Alexander Kuoppala
1.How long have you played?
Ten years.
2.Bands you like?
King Diamond, Manowar, Slayer

3.Favourite musicians?
Lars Szke, Jeff Hanneman

4.Your top 5 albums?
King Diamond:Them
Slayer:Decade of aggression
Stratovarius:Visions
Impaled Nazarene:Latex Cult
Hurriganes:Roadrunner

5.Favourite Bodom song?
Every time I die


Jaska Raatikainen
1.How long have you played?
Eight years.
2.Bands you like?
Death, Hypocrisy, Slayer
3.Favourite musicians?
Scott Travis, Mickey Dee, Vinnie Colaiuta

4.Your top 5 albums?
Stratovarius: Visions
Death: Human
Sepultura: Arise
Slayer: Divine intervention
King Diamond: Them

5.Favourite Bodom song?
Hate Me